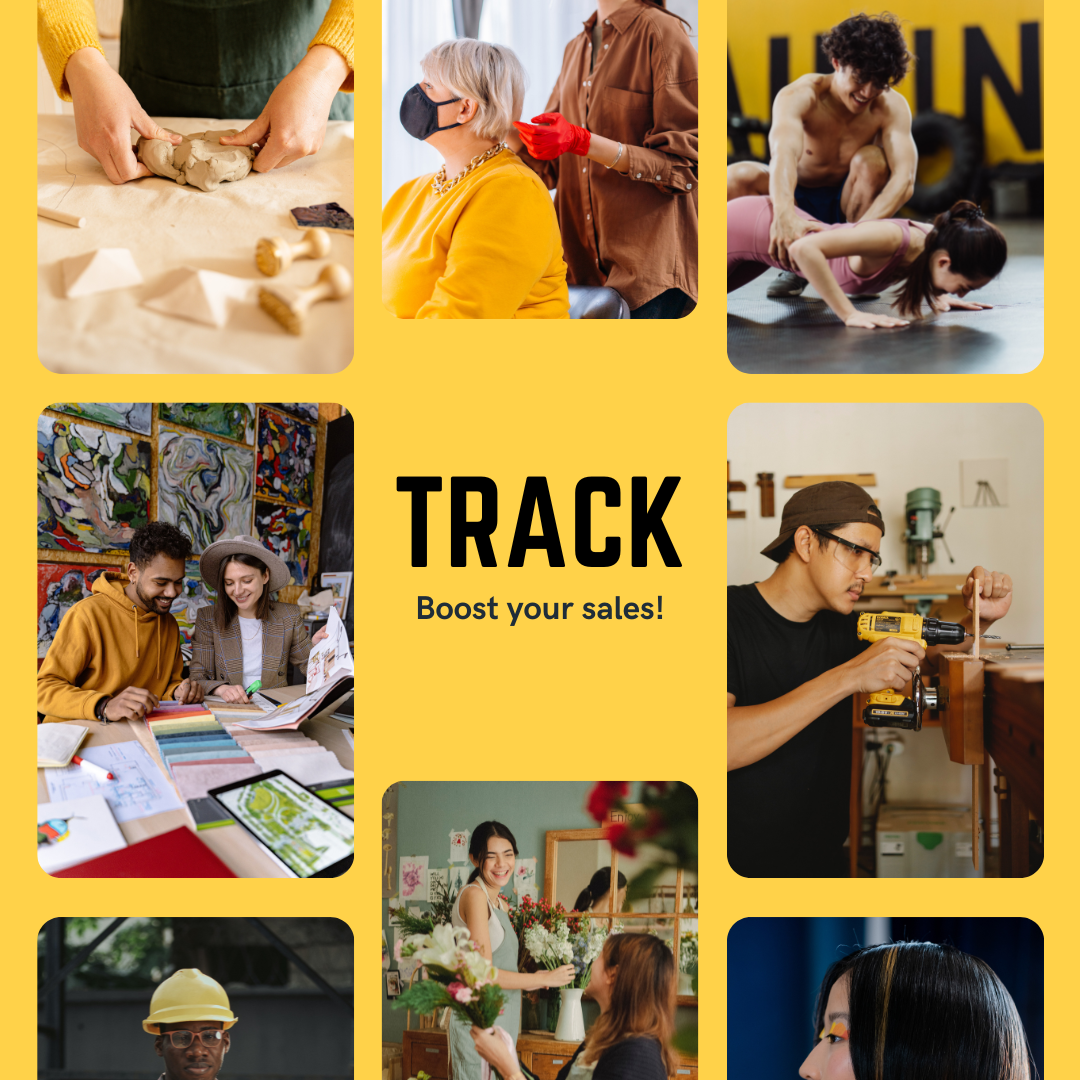 A CRM for freelancers​
Track perfectly meets the needs of a CRM for freelancers, whatever your job:
Freelancers in Information Technology (IT) whether in the role of consultant, project manager, developer, architect...
Freelancers in design: UI/UX designer, illustrators, 2D/3D graphic designers
Freelaners in content management: community managers, copywriters, webmasters...
Your clients ask you for by-day or fixed-price contracts. You need to track your customer requests in an easy-to-use tool. You are solicited by email, by phone but you have very little time to log and take note of your customer requests. Track is made for you.
A CRM for personal services professions​
Personal services, whether self-employed or small businesses, are not exempt from the need for a customers management tool. There are many jobs that need a CRM application like Track:
Cleaning and ironing lady/man
Childminder
Hairdresser at home
... All jobs that initially find their clients on jobbing platforms can switch to a CRM like Track once their clientele has been established.
A CRM for coaches​
Professional coaches, whatever their specialty, must make the search of new clients and the follow-up of existing ones a priority. Coaches mainly provide services by the hour and must have enough qualified clients. The different types of coaches who can benefit from a mobile app like Track to manage their clients are:
Sports coaches (physical preparation, weight loss, freelance at-gym coach, running coach, boxing coach, etc.)
Personal development coaches (NLP, hypnosis, self-help, etc.)
The Agile coaches (who can be considered in the IT professions above)
A CRM for beauty professions​
Aesthetics professionals are increasingly independent and use platforms to find their clients. These professions are:
Eyebrow beautician
Beautician manicure / pedicure
Hairdresser at home
Once their clientele is established, these businesses can follow up on their customers with platforms like Track. If their activity were to develop with new partners or employees, the sharing functionality of the Track database will allow all employees to share a common synced database of customers and services/product list.
A CRM for recruiters​
Recruiters do not sell products or services. However, the sourcing (the search) of candidates can be similar to commercial prospecting. Recruiters are looking for a person at a given price (salary). The Track application can be used for this purpose without any problem. The professions concerned are:
Freelance recruiter
Head hunter
Recruiter in agency
Business manager/developper in a services agency
A CRM for real estate businesses​
Real estate agents, whether in the search for properties or potential buyers, must organize themselves as well as possible so as not to miss any deal. This is the goal of Track, which is perfectly suited to the profession of real estate agents in their prospecting activity. Real estate industry jobs that can benefit from Track are:
Independent real estate agents
Independent real estate agents but part of a network
Goods dealers
A CRM for construction jobs​
The construction jobs are not immune to the gig economy: new workers become freelancers and build up their client base, regular or not.
The concerned professions are:
House painters
Carpenters
Plumbers
Electricians
Architects
Interior designers
Kitchen designers
The Product functionalities of Track will make it possible to establish a catalog of products and services that the craftsperson can offer to his customers.
A CRM for investors​
Investors (business angels, etc.) are also one of the professions that need a CRM. Between solicitations by email, phone or over a coffee, it is important to miss no deal and to have a deal flow always filled with qualitative opportunities. An application like Track perfectly meets this need. Keeping a list of contacts and interesting projects in terms of investment is essential. They will be able to use the attribution and deal tracking functionalities according to their probability of conversion.
A CRM for sales reps, VDIs, etc.​
Sales representative, door-to-door sales, etc. are the salespeople par excellence. Due to their independence, they may lack specific tools for finding clients. These are the concerned professions:
Sales reprensentative
Door-to-door salesperson
Buyer-reseller, etc.
Everyone can rely on an easy-to-use CRM mobile app like Track to keep track of their business. The reports provided on Track app will allow them to follow their progress towards their turnover objectives.
A CRM for event providers​
Events is a sector with a lot of subcontractors and freelancers. For corporate event, associations events, festivals or simply weddings, it is essential to follow-up on customer requests over time. Especially since the sales cycle is very long on these type of jobs. If you are part of this list of professions, Track can be very useful to you:
Caterer
Photographer
Videographer
Decorator
Florist
Rental of audio-video equipment
Car rental
Tracking of interactions by customer as well as monitoring of the deals pipeline will allow them to monitor their workload and activity.