Before starting this article, I would like to wish you all a happy new year 2023!
Whether you are entrepreneurs, employees, retirees, housewives or house-husbands, students, whatever your status: Happy New Year and I wish you a good health! 🎉🥂
If you are reading this article, it means that this year you have decided to become freelancer! First of all congratulations! 🥳 It's not easy to take this step, to put their fears aside, to brave the thoughts of their friends or family so for that bravo ! 👏
Becoming freelancers, this idea has been in your head for a while, you have thought about it, asked the "pros and cons". You did not find your place in companies, the market for your activity is very attractive at this time, you want to start a new professional life. The choices to become freelancers are multiple and personal but do not forget becoming independent is not without risk if you do not prepare for it.
The advice I can give you is to surround yourself well: lawyer, accountant, etc. All of these professionals will help you choose the best structure for your business.
Now that you have your professional status, here you are on the entrepreneur market. 🚀 (The rocket emoji is too much in 2023?! 🙊)
Your first step to start as an entrepreneur is to make yourself known to your future customers (we call them prospects) and your suppliers.
There are several methods for this:
Use your address book
Make your activity known on your social networks (Instagram, Linkedin, Facebook, TikTok,…)
Go to fairs related to your activity and meet your future customers
Join local business associations
Whichever method you choose, the idea remains the same: target your market and meet your future customers.
Once you get started, meetings go by and the difficulty for all new entrepreneurs is to stay in touch with these ephemeral encounters.
How to keep in touch with your prospects?​
On Track, [import] (https://www.track-app.io/docs/manage-contacts/add-a-contact-import) contacts from your address book directly into the app to easily and simply manage your communication with them.
Once your contacts have been added to your Track address book, you can assign activities to your contacts, this will give you an overview of the status of your relationship with the contact in question.
Below is an example of a situation with my contact "Judith PERVENCHE":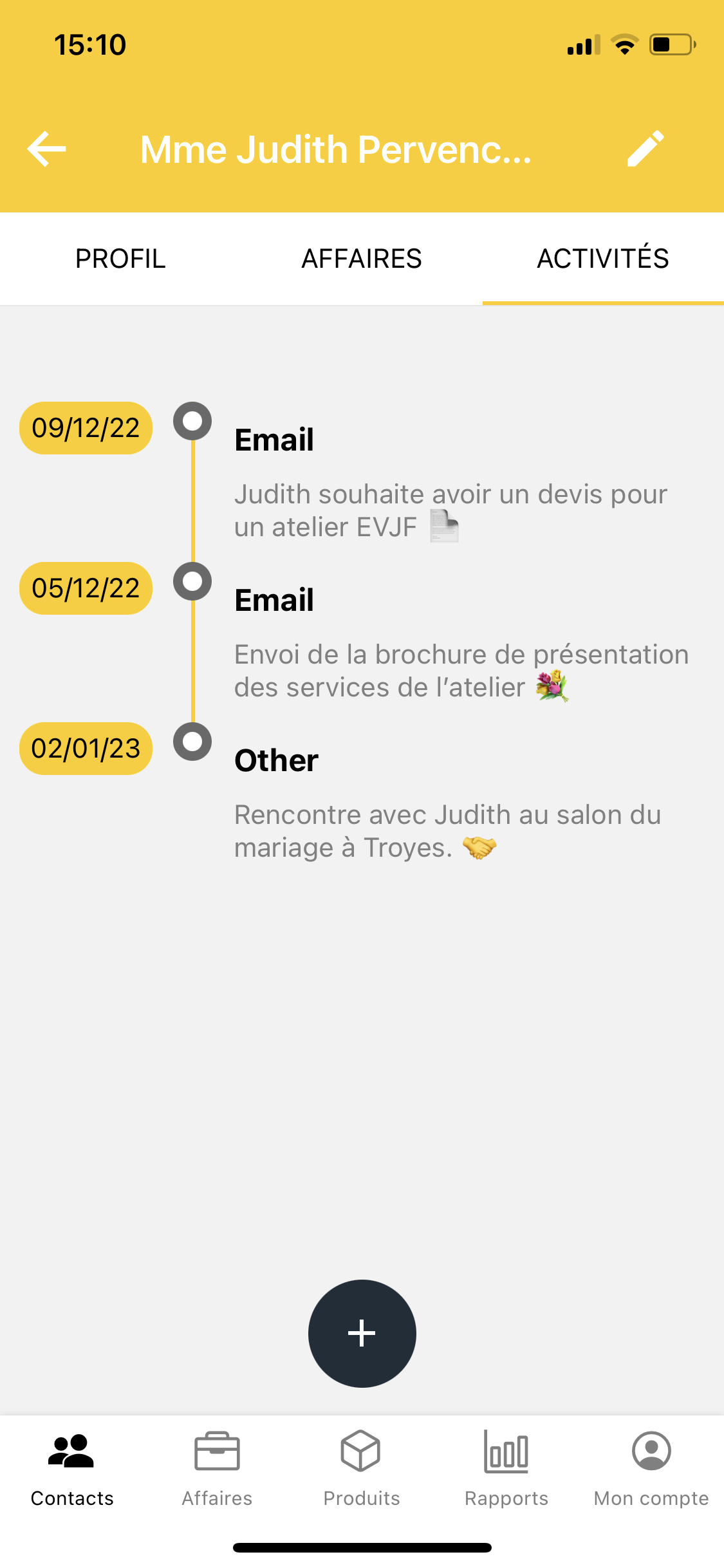 I met Judith on December 2nd at the wedding fair in Troyes. I got his contact details (phone number and email address) which I saved in my Track address book. On December 05, I sent the presentation brochure of my services to Judith. On December 9, Judith, after reading my brochure, asked me for a quote for one of the services offered.
How do I offer a service or product(s) to my prospects?​
Let's stay on the example of Judith PERVENCHE, after asking me by email, I provided her with my quote for the service requested by email.
In parallel, I register in TRACK the ongoing business that I have with Judith.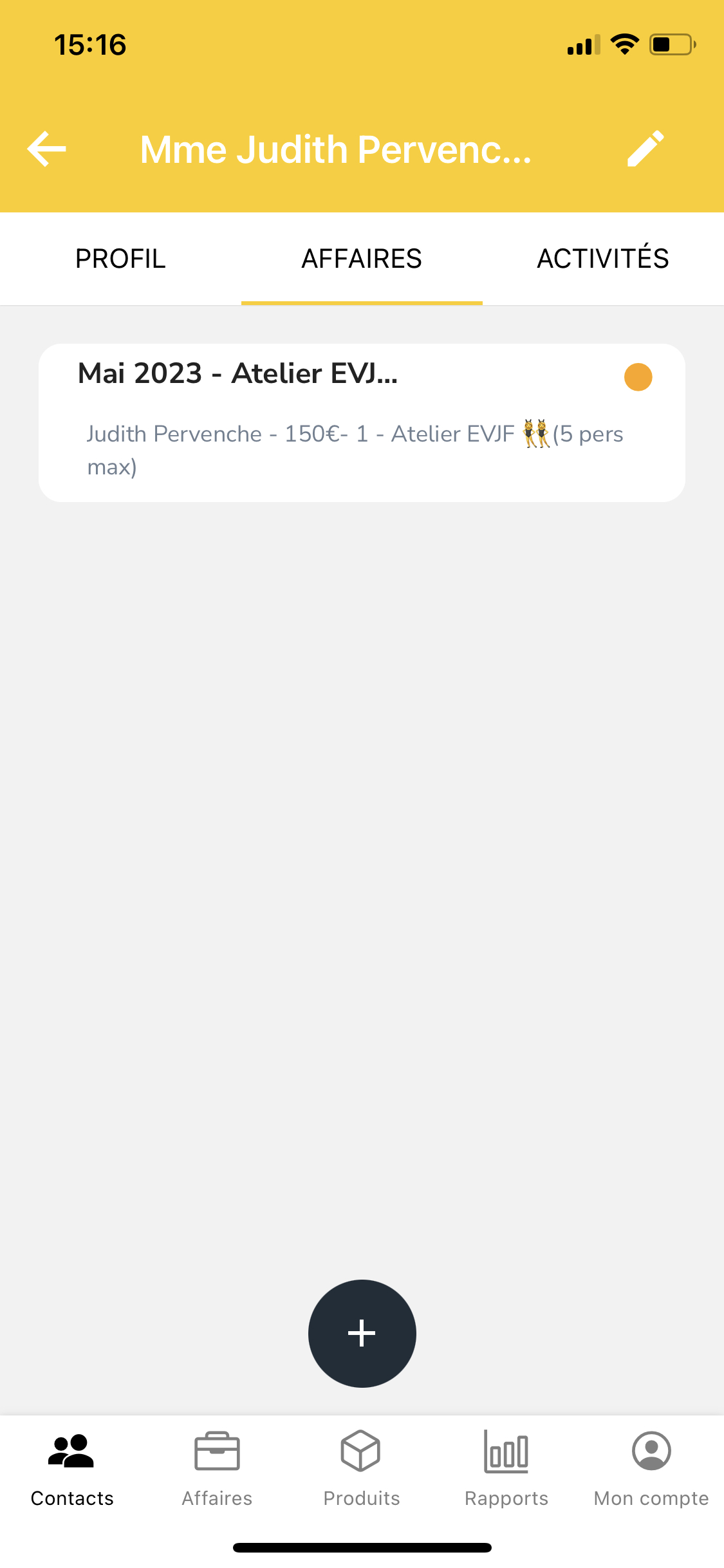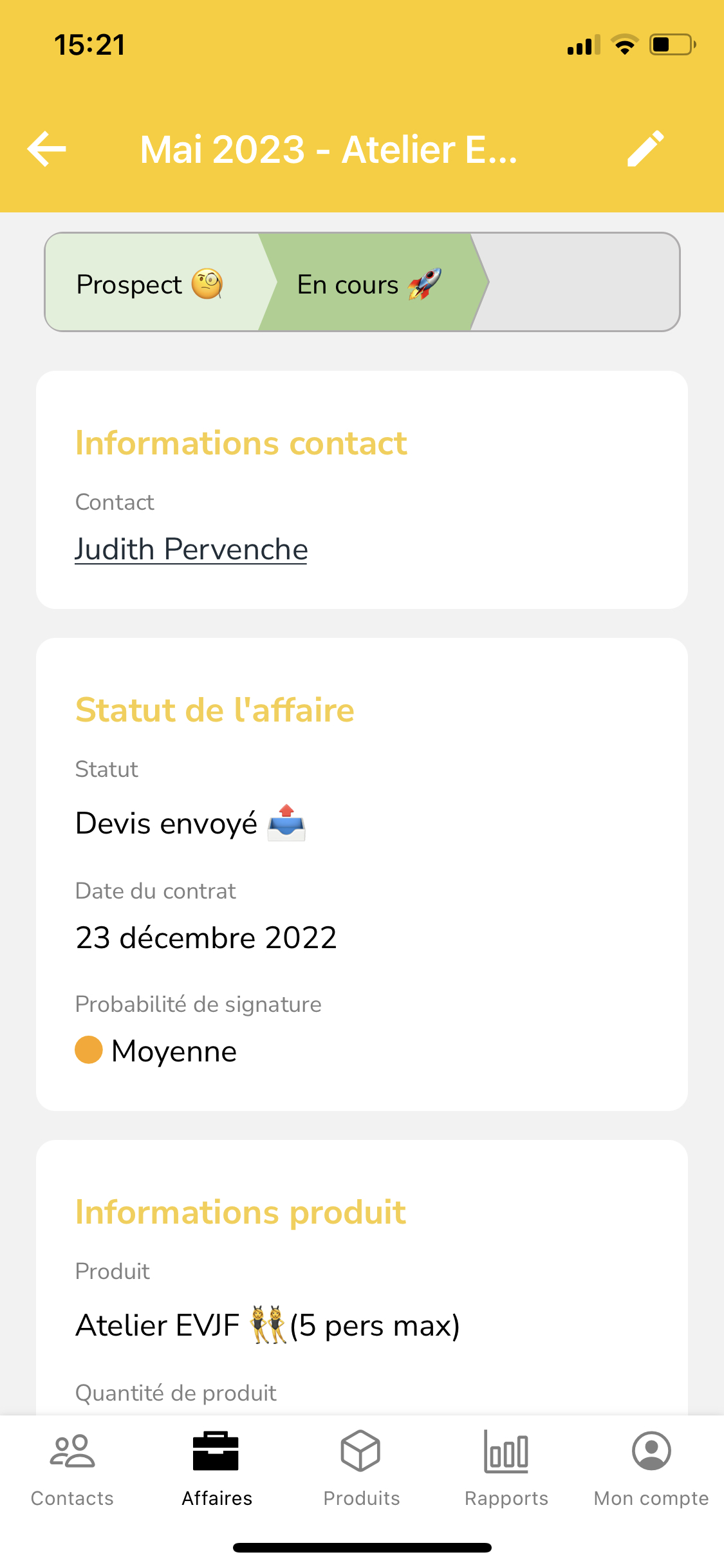 My business is in "In progress 🚀" status, more exactly in "Quote sent 📤" because the quote for this service was sent to Judith on 09/12. I am waiting for his return to validate this case.
I can add a signature probability: low 🔴, medium 🟠 or high 🟢. In my case, I know that Judith has requested quotes from several competitors, so I'm not sure that she signs my quote.
After several days of waiting, having received no response from Judith, I decide to relaunch it: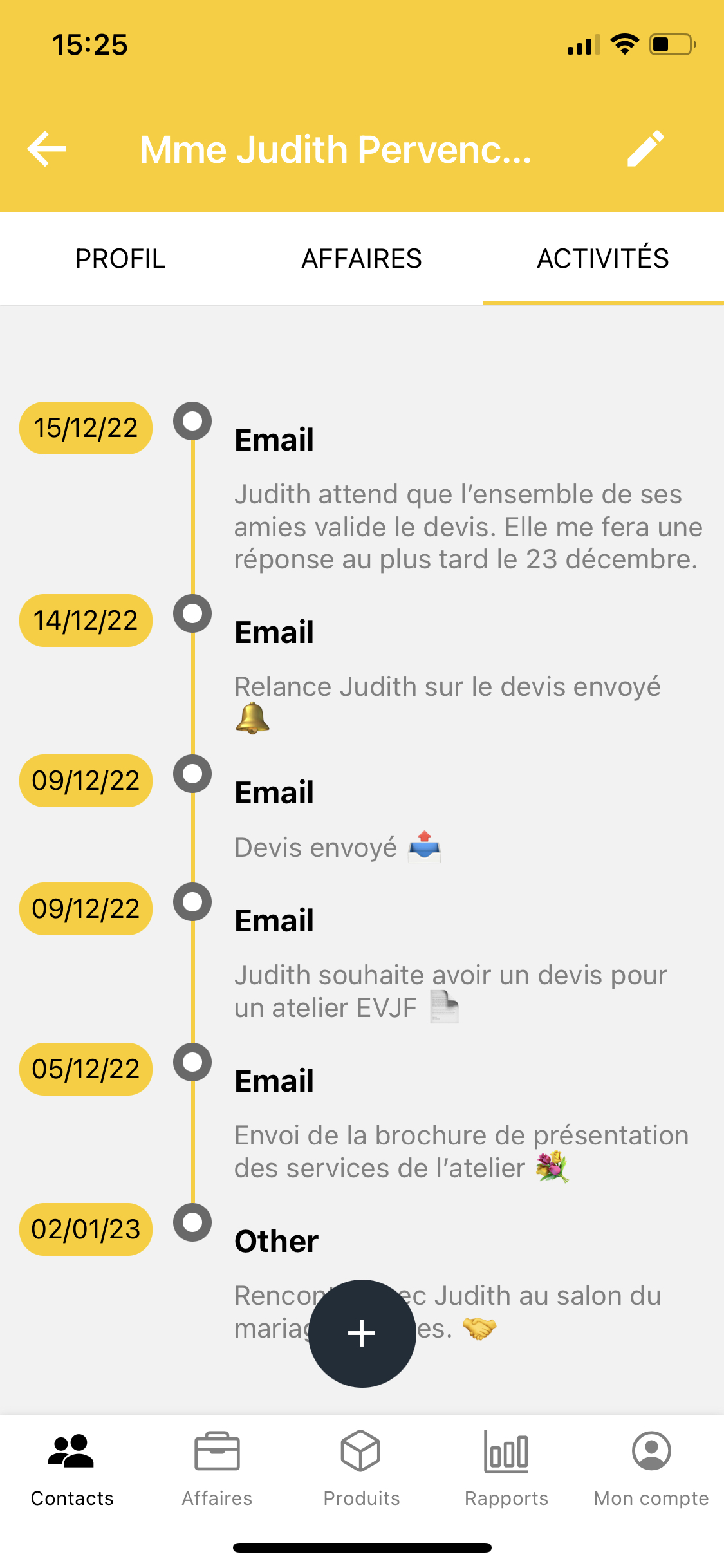 Judith replies that she will get back to me before December 23 as soon as all of her group of friends has validated the quote.
On December 19, Judith calls me back and wants to add a 6th person to the workshop and wants to negotiate a new group price. I accept his proposal and send him a new negotiated quote.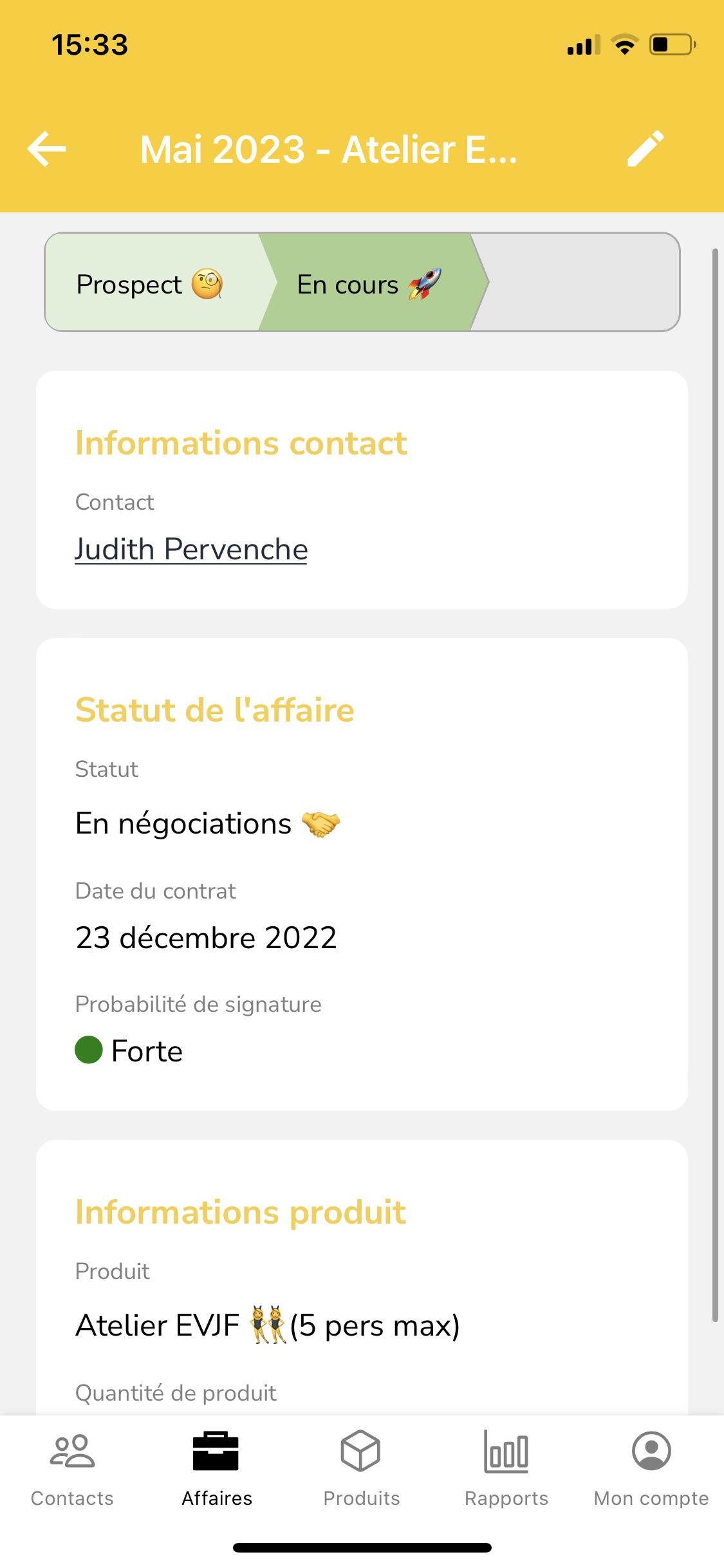 I change the status of the current case to "In negotiations 🤝" and I change the probability to "Strong 🟢" because Judith is about to sign.
On December 20, Judith sends me back the signed quote!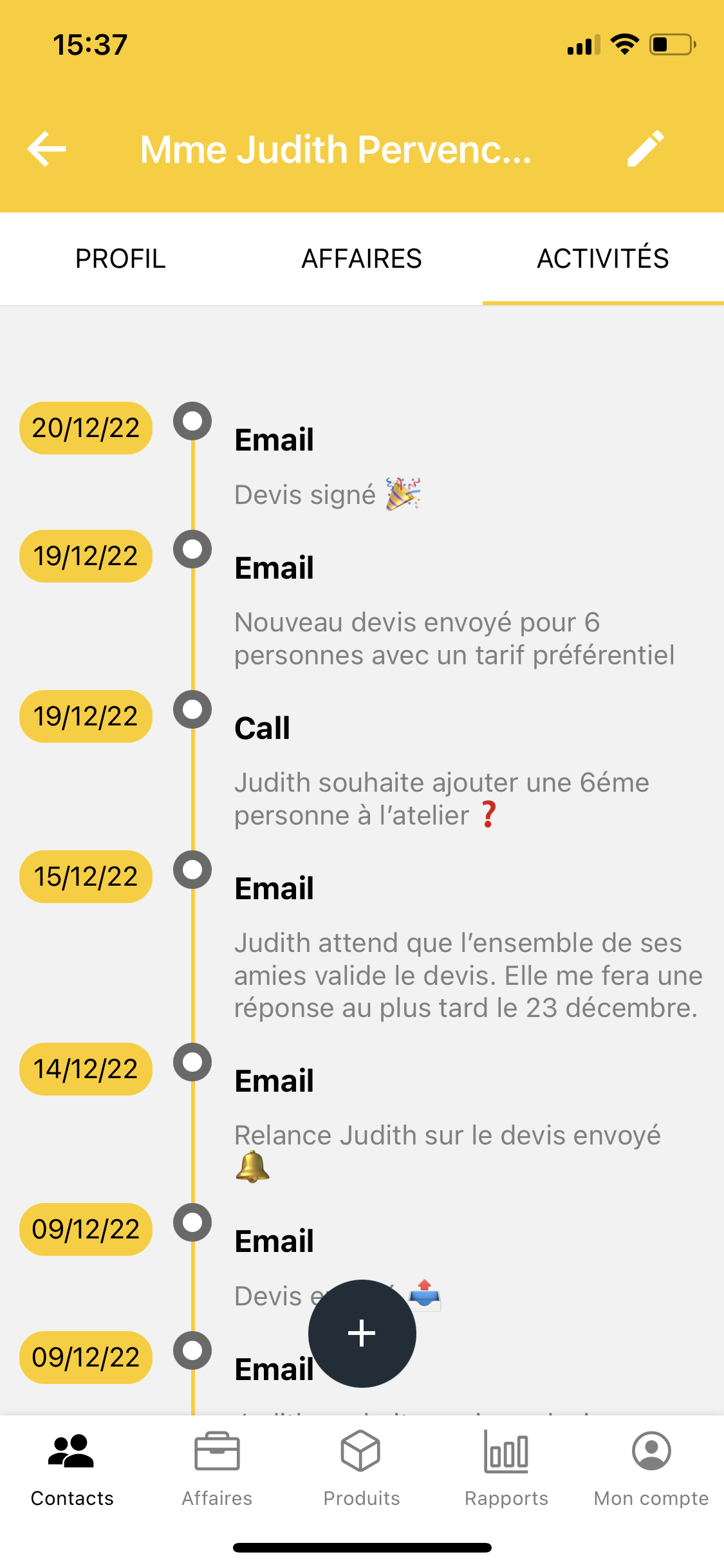 I change the status of the current case with her to "Signed 🎉".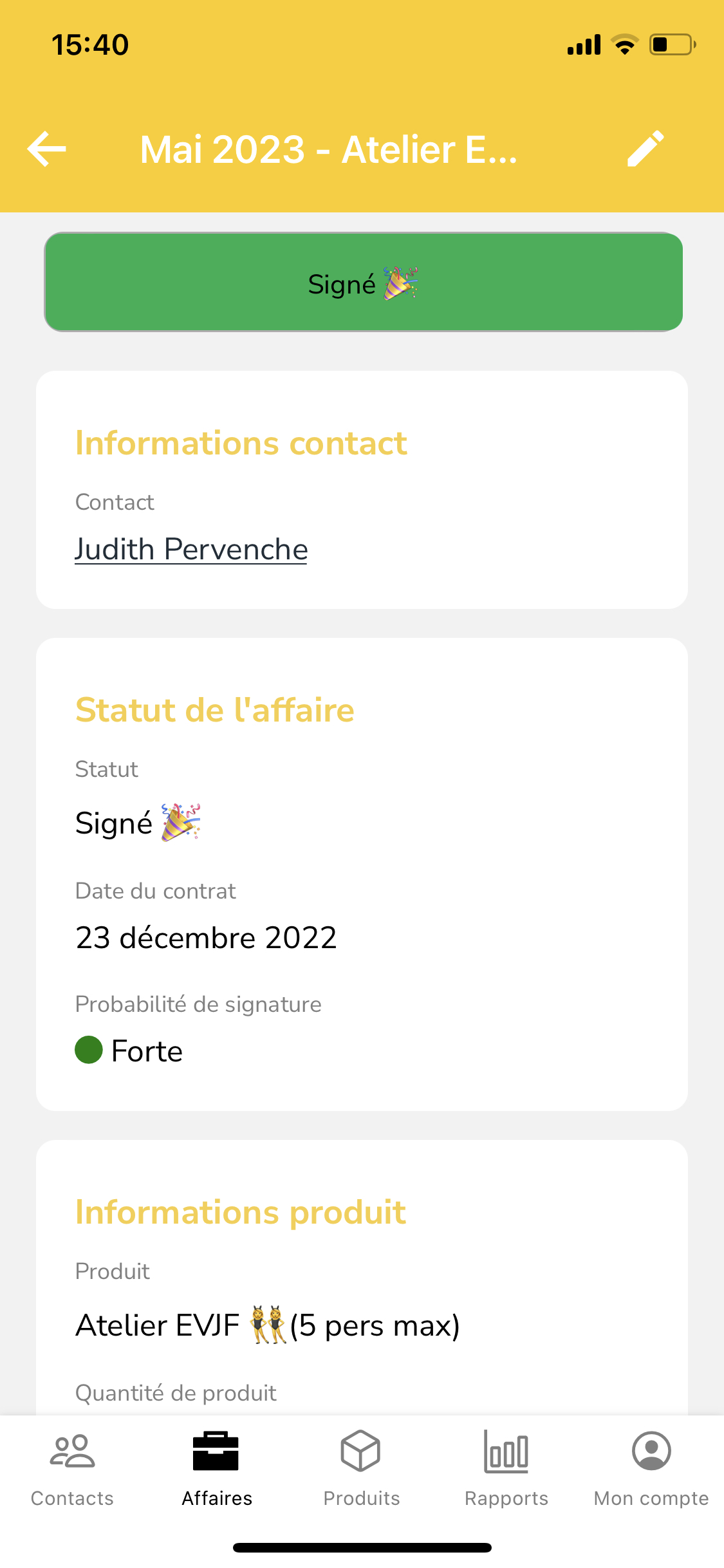 This was one of the many examples of how you can use Track.
Track is here to help you organize your relationship with each of your prospects or customers and to organize the follow-up of the business you have with them.